Professor (and now designer) Ying Gao from the University of Quebec in Montreal believes that he has come up with a very interesting solution to the forever, and constant, battle that ensues between the rich and famous and the paparazzi.
Allegedly based on an old Mr Hulot film from the 1960''s by Jacques Tati, called Playtime, where he is caught up with a group of American tourists and embarks upon a tour of technical gadgets in Paris.  You can see immediately from the dresses that they would fit in equally today as they would in that era.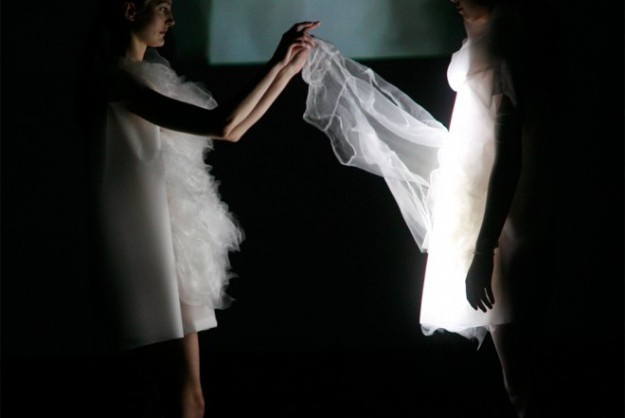 There are two dresses to speak of at the moment one which basically changes shape the whole time and the other has a series of lights built into it.
The dress that changes shape has a series of underlying motors and mechanisms that effects a very soft and fluid constant shape change of the dress which will cause any images to be blurred as a result of the camera not quite knowing where or how to focus.
The dress with lights is designed to play havoc with the exposure settings of the camera so that the images are over exposed, especially when the flash is used.
Of course the photographer could always focus manually and or just point the main part of the lens to the targets face but these are early days yet for paparazzi proof clothing. For a videos of the dresses in action please view them below:
Now if you are interested in more tried and tested ways of countering any surveillance then take a look at the counter surveillance page on www.spycatcheronline.co.uk