We have been telling our customers for a number of years about how it is a complete waste of time expecting the police to solve domestic (or any other) burglaries. Of course you have to report it, if for no other reason than to get a crime number for your insurance company, but we all know that the police are under resourced and that they will devote the minimum amount of time to actually finding out who the culprit may be. They may get lucky and retrieve some of your stolen property, usually in the course of investigating a different crime, but the chances are slim.
That is why it is so refreshing to hear that the Metropolitan Police Commissioner, Sir Bernard Hogan-Howe, is suggesting that home owners should consider installing CCTV to help trap burglars. Over the years we at Spycatcher have faced a certain amount of criticism for selling covert CCTV cameras. At last the public and the Police are getting wise to the fact that this really is one of the best ways of protecting your property, and helping to bring the perpetrators to justice by providing unequivocal evidence.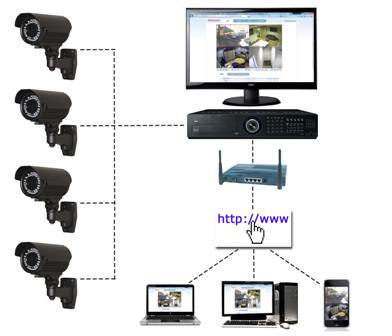 The recent advances in CCTV technology have resulted in a pretty dramatic drop in prices whilst at the same time the quality of the cameras, and therefore the recordings, is better than ever. Take, for example, our standard home security system. For £499.00 we can supply a 4 camera system complete with a high quality DVR recording unit. The customer can choose either dome or bullet cameras, which will work either indoors or outdoors, and will give a 50 degrees viewing angle. Not only that, but  because they have built in infra-red they will record images at up to 20 metres away, even in total darkness. You can read more about this home security CCTV device. This system will not only record what is going on, but by placing a couple of cameras, visibly, outside of the premises they also tend to act as a deterrent discouraging thieves from targeting your home.
The Police are also suggesting that cameras should be placed at face level to make it easier for them to use face new recognition systems to locate the thief.  If you have the camera too high up, all it sees is the top of the perpetrators head or their hat hidden eyes.
There are so many covert cameras available today, far too many to list but an example would be the power adaptor DVR camera. This is so simple yet so clever. The camera is housed inside what looks like an ordinary mains power supply. Because the camera is at the end of a flexible power lead it is easy to point it in any direction that suits your purpose. This brilliant unit is reasonably inexpensive and includes a motion detection sensors so that when you playback you only see the recordings of actual activity.
Another example of covert video recording is the bedside travel clock digital video recorder.  This is an inexpensive lightweight bedside travel clock which houses a full colour hidden camera to record both colour video and audio, but only when the unit detects movement through it's highly sensitive monitor.
Clearly times are changing. Homeowners do tend to feel vulnerable and the latest statement from Sir Bernard seems to give us the green light to go ahead and start doing more to protect ourselves.